Okay, so a while back I posted
here
about really bad logo tattoos. One in particular stood out, a Dell tattoo: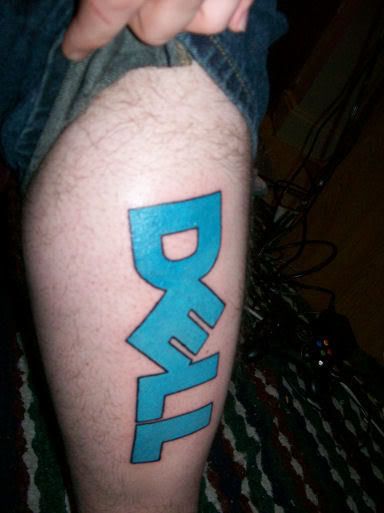 To me, Dell is a kind of lame, nothing-brand-- not one that I thought anybody would be stoked about enough to get it branded on them for life. So I made fun of the dude with the Dell tattoo. He emailed me today:
"i am emailing you. about your post about tattoos, 1 special one tho, the dell tattoo, see that tattoo is actually my tattoo, see my name is Todd Dell, in my life i always got the DUDE YOUR GETTING A DELL. and stuff like that i always laughed it off, so my friend was like dude you should get the LOGO tattoo on you i was like sure, thus knowing i could get away with it, no im not a nerd, i dont even own a dell computer, im actually a mma fighter lol."
So, I take it back. Sorry, Dell guy. You have a sense of humor about your name and you got a tattoo to prove it. You are officially awesome.